On leur doit les soirées Burning, une salle de karaoké dans la Maison Jägermeister, les Mamadredi du Mama Shelter Marseille, une soirée mexicaine au Dantès, le lounge du Sofitel, un concours de barbecue l'été dernier au White Rabbit… Et dans tout ça, on les remercie aussi pour les nombreuses migraines, crises de foie et autres amnésies de lendemain de soirée. Anaïs et Pedro reviennent faire trembler Marseille et donnent le coup d'envoi de la saison estivale avec le Coconut Beach Resort, qui ouvre ses portes tous les jeudis, de 19H à 2H au Sport Beach, depuis le 26 mai.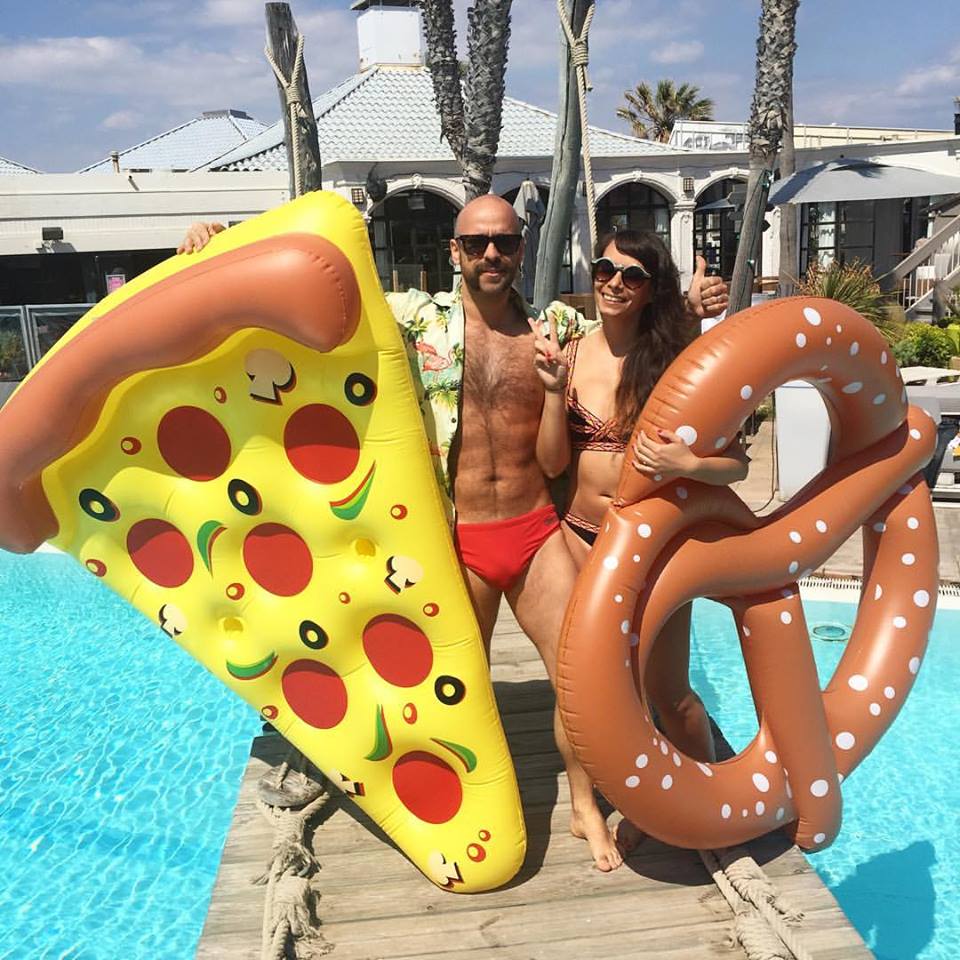 Vous n'êtes jamais allés à Las Vegas ? Eux oui, et ils ont même été mariés par Elvis. C'est dans la ville du péché qu'ils ont trouvé l'inspiration pour leur Coconut Beach Resort : barbecue géant, cocktails de 1 litre, buckets de bières, bouées pizza ou bretzel, DJ set enflammé… Enfilez votre plus belle chemise hawaïenne, prenez votre maillot, cet été, ils vous accueillent au Sport Beach, à l'Escale Borély à Marseille. Pas d'entrée payante, l'accès à la piscine offert, et l'assurance de passer une soirée mémorable – quoique, viens, tu ne te souviendras plus de rien !
Après, Djel, Don Choa et K-Méléon, c'est mon binôme (Girls on the rocks qui prend les commandes ce jeudi, puis Amevicious et Adriano (Villanova).
© Photospectral
Playlist une heure / un morceau
Djel, Anaïs et Pedro et les Girls on the rocks ont chacun donné leur playlist-type de la soirée avec une chanson par heure.
1. Bord de la piscine, 18h, on écoute quoi ?
Djel : Un petit Blessings de Big Sean & Drake … Trinkil le début
Anaïs : Hello bitches de  CL, on envoie du lourd d'entrée…
Pedro : Regulate – Warren G, Nate Dogg
Marie (Girls on the rocks) : Ike & Tina Turner – Come Together
Julie (Girls on the rocks) : Patrick Cowley – Sea Hunt
2. Coucher de soleil, 20h, quel morceau ?
Djel : Killing me softly des Fugees, on monte tout doux…
Anaïs : Rihanna, Work
Pedro : El Disco Anal – Los Amigos Invisibles ou Que Tal America – Two Man Sound
Marie (Girls on the rocks) : The Rolling Stones – Like a Rainbow
Julie (Girls on the rocks) : Rufus & Chaka Khan – Ain't Nobody

3. Barbecue, 21h, on mange en écoutant quoi ?
Djel : Kendrick Lamar, King Kunta… On fait comme à L.A.
Anaïs : #Twerkit de Busta  Rhymes et Nicki Minaj pour booty shaker en faisant cuire ses saucisses.
Pedro : Like Glue – Sean Paul
Marie (Girls on the rocks) : Beyoncé – Sorry
Julie (Girls on the rocks) : Zouk Machine – Maldon
4. Digestion, 22h, on jump sur quoi ?
Djel : Drop it like it's hot de Snoop… La piscine etc … C'est l'Amérique friiiiiire !
Anais : Booba, Boulbi
Pedro : Take Ü – jack Ü
Marie (Girls on the rocks) : Busta Rhymes – Break Ya Neck
Julie (Girls on the rocks) : M.O.P. – Ante Up

5. Bain de minuit, on plonge sur quel track ?
Djel : Tous dans la piscine sur Jump de House Of Pain
Anaïs : Dancing in the moonlight de King Harvest, genre en mode tout le monde s'aime, tout le monde est heureux.
Pedro : Pon De Floor – Major Lazer
Marie (Girls on the rocks) : Major Lazer – Pon De Floor
Julie (Girls on the rocks) : Will Smith – Miami

6. 2H, chemin du retour, on enclenche quoi dans la voiture / le taxi / l'ambulance ?
Djel : Mercy de Kanye West, histoire d'être encore dans l'ambiance.
Anaïs : Dans l'ambulance, comme dans un film, ralenti et BIM : Dust in the wind de Kansas. Je pourrais être réalisatrice…
Pedro : En Y – JUL
Marie (Girls on the rocks) : Drake – One Dance
Julie (Girls on the rocks) : Alan Parsons Project – Eye in the sky

7. Lendemain difficile, pour faire passer la migraine et tenter de retrouver la mémoire, on écoute quoi ?
Djel : Alonzo – La belle vie
Anaïs : Everyday d'Asap Rocky ft Rod Stewart (et on recommence le soir même…)
Pedro : Changes – Black Sabbath
Marie (Girls on the rocks) : Drake – One Dance (pour essayer de se souvenir du retour).
Julie (Girls on the rocks) : Europe – The Final Countdown (et on soigne le mal par le mal)

Plus d'infos :
Sport Beach
138 Avenue Pierre Mendès France
Escale Borely – 13008 Marseille
04 91 76 12 35
info@sportbeach.fr •/• MAP
➠ L'événement Facebook

➠ www.anaisetpedro.com
➠ Anaïs & Pedro sur Madmoiselle Julie